The IO-28U come with 28 inputs/outputs (I/O) to accommodate general and specific applications featuring BACnet MSTP and Modbus RTU communication protocols. The 28 IOs include 8 universal input (UI) supporting current, voltage and resistance based sensor, 8 digital input (DI) supporting dry contact (able to support NTC 10K/20K thermistor sensor as well), 8 electrical isolated digital output (DO) and 4 analog output supporting current and voltage output.
The IO-28U comes with one standard RS485 driver to support either BACnet MSTP or Modbus RTU communication (selection via hardware dip-switch). This communication port is also used as configuration/setting and firmware upgrade.
(IO-28U)
Others Also Bought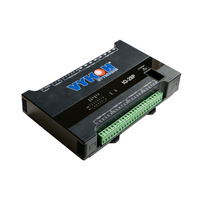 Vykon IO-28P Modbus Controller
Login to view pricing.

Login
More From This Category